Apostle Islands & Madeline Island
The ferry trip from Bayfield to Madeline Island provides a nice view of
some of the Apostle Islands and the surrounding sea, a favorite sailing area.
Apostle Islands Travel Directory
- Apostle Islands Travel
- Apostle Islands Cruise
- Raspberry Island Lighthouse
- Apostle Islands Sea Caves Cruise
- Sea Caves Hiking Trail
- - Winter Bayfield Ice Caves
- Apostle Islands Links
- Madeline Island Travel
- Madeline Island-winter ice road
- Madeline Island Historical Museum
- Big Bay State Park on Madeline Island
- Cornucopia, Wisconsin
- Bayfield Wisonsin Travel Directory Page
- Bayfield Wisconsin Camping
February 1, 2018. The ice on Lake Superior is thick enough for cars and light trucks to travel on the Madeline Island Ice road.

The Sea Caves of the Apostle Islands National Park are a major attraction

The Apostle Islands National Lakeshore is a scenic archipelago of 22 islands surrounding the northern tip of Wisconsin's Bayfield Peninsula. The islands were long home to native peoples; the Objiwe trace their history back to the 1400s. The islands also occupy an important place in the early European settlement and exploration of the upper midwest by French voyageurs, fur traders, and missionaries.
Madeline Island, the most southern and largest island of the Apostles, is the only year-round inhabited island. Yet several of the other islands have docks, rustic campgrounds, hiking trails and seasonal visitor attractions, including lighthouses. Cruise services in Bayfield and in Cornucopia offered regular tours of the Islands, custom tours, and shuttle services for people who want to camp on any of the islands.

View of Madeline Island from Bayfield, Wisconsin
Visiting the Apostle Islands National Park
One of the easiest ways to see the Apostles is through one of the many cruises offered by the Apostle Islands Cruise Service. We've taken the Grand Tour Apostle Islands Cruise, the Raspberry Island Lighthouse Cruise and Tour and a Mainland Sea Caves Boat Tour.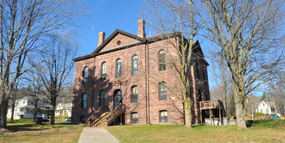 Apostle Islands Visitor Center - Bayfield
The old county courthouse in Bayfield houses the main Apostle Island National Lakeshore Visitor Center. Here one can view audiovisual programs, exhibits, and obtain information on touring and recreational opportunities.
There's also a smaller visitor center at Little Sand Bay (see pictures and information below)
Links to more information on visiting the Apostle Islands
See a VIDEO of Devil's Island Sea Caves
Little Sand Bay - Apostle Island National Lakeshore
Northeast of Bayfield via Hwy 13 and Cty K is an Apostle Island Visitor Facility with a Ranger Station/Visitor Center, a public boat launch, an "Industrial Strength" dock and breakwater, a swimming beach and picnic area, a campground, and a fishery exhibit.
The Ranger Station/Visitor Center looks out over Little Sand Bay.
Inside is a bookstore, a small museum and an mini-theatre showing tapes on the Islands. > > >
The Little Sand Bay Recreation Area's grounds, parking areas, washrooms, and waterfront facilities are well maintained - kudos to the Park Service.

There's a nice sand beach and a waterfront picnic area. Good for swimming and a favorite with kayakers. > > >
The "industrial strength" dock and seawall protects boats and ships from the occasional rages of Gitchee Gummi.
Museum Tour
Just west of the visitor center is the Hokenson Brothers Fishery Museum. The Park Service has preserved the buildings, tools, and craft used by the brothers in their fishery operation. Tours are conducted by the Park Service staff.
Their fishing tug, the "Twilite" remains in dry dock for viewing.
Winter Activities

Apostle Islands Dog Sled Race has competitors of all ages and is a fun wintertime family event both for participants and their families and spectators.
Once the Ice Road freezes up it makes it easy to
visit Madeline Island in the winter
Hiking, skiing, or snowshoeing out to see the Bayfield Apostle Islands Park Ice Caves is the most popular winter event in the area.
Visiting Madeline Island
As soon as the ice is out, the Madeline Island Ferry begins running 4 times a day from Bayfield to the village of La Pointe. After May 7th, its schedule increases to 11 daily trips, in June and July even more frequent.
Visiting Madeline Island - see our photos and visitor articles on things to see and do on Madeline Island.
Visiting Bayfield Wisconsin
Popular Bayfield Events & Visitor Attractions.
Campground Listings - Bayfield Area.
Bayfield Apple Festival.
Bayfield Pictures & Scenes.
Bayfield & Ashland Fall Color Scenic Drives.


The Bayfield Chamber & Visitors Bureau office is conveniently located downtown on Manypenny Avenue. They are the prime sponsor of AppleFest and are an essential stop for the Bayfield visitor to get useful advice, maps, brochures, and information on enjoying the Bayfield area.

SuperiorTrails.com - Reinhold Development - 2017