Lake Superior Scenic Drives
Travel Guides & Books
Below are some of the most popular books and guides of readers of SuperiorTrails.com website. Many of the books we own ourselves or have reviewed them extensively in libraries or bookstores. They are offered through our association with Amazon.com as an Amazon Associate (our modest commission on sales is paid by Amazon, not you).

We offer our review of these books . . . plus you will find when you click through to Amazon, there are additional reviews and reader ratings on many of the books.
These are offered at the very "best prices" Amazon offers

(See Top Travel Books on Amazon
)
Travel Guides for Scenic Travel around Lake Superior

Lake Superior: The Ultimate Guide to the Region

This Lake Superior Travel Guide is published by Lake Superior Magazine and contains an updated list of interesting attractions, recreation, dining, lodging, etc. around Lake Superior. Loads of maps are included, as well as a fold-out map of the entire lake -- the only one of its kind.

Around the Shores of Lake Superior: A Guide to Historic Sites

Authored by Margaret Beattie Bogue, this guide book takes the reader on a clockwise tour around Lake Superior, travel region by travel region. Includes over 200 pictures and other detailed information, including a fold-out map in the back cover. What makes this book special, however, is the attention paid to the cultural and historic background about each region.

61 Gems on Highway 61: A Guide to Minnesota's North Shore-from Well Known Attractions to Best Kept Secrets

While this guide book covers a number of the popular North Shore attractions, it also uncovers some "jewels" missed by many North Shore travelers. Even if you've traveled Scenic Highway 61 many times, you may be surprised at the interesting places and things you've missed. 87% of the readers gave this guide 5 stars.

400 page directory to the best places to eat, dine, play, and relax along the Minnesota North Shore . . . from Duluth to Grand Portage, Minnesota.
[More Info]

A necessary companion for the traveler and explorer. In addition to detailed maps of roads (including backroads and trails), the Gazetteer includes map notes & guides to campgrounds, waterfalls, scenic drives, state and national forests, rivers, boat and canoe launches, museums, and many other travel attractions. (versions also available for Michigan and Minnesota) [More info]

Also see the Michigan Atlas & Gazetteer and the Minnesota Atlas and Gazetteer

Other Interesting Guides for Scenic Travel around Lake Superior

Guide to visiting the Finest and most entertaining Bars in Michigan's Upper Peninsula

One of the fun aspects of touring Michigan's Upper Peninsula is stopping in at local publs and bars. Here is the most comprehensive guide to the best and most notorious Yooper watering holes.

Wisconsin's Best Beer Guide: A Travel Companion

Guide to Wisconsin's best and most interesting Breweries, Craft Brewers, Brewpubs.





Apostle Islands National Lakeshore (National Geographic Trails Illustrated Map)

"National Geographic's Trails Illustrated map of Apostle Islands National Lakeshore was created for outdoor enthusiasts looking to savor the area's unique combination of cultural resources, natural beauty and historical significance. Waterproof and wrinkle-resistant, this expertly researched map covers the 21 islands and 12 miles of Lake Superior shoreline that comprise the national lakeshore with unparalleled detail."

Guide to Sea Kayaking in Lakes Superior and Michigan

Three expert kayakers provide descriptions and guides for 49 trips on Lake Superior and Lake Michigan.
Lake Superior Coffee Table and Gift Books
Photographer Craig Blacklock offers a book-full of high quality images from around Lake Superior - far superior in quality than you or I could produce. "Lake Superior Images" offers a great book of memories plus it would be a handy guide for the explorer who loves to get off the beaten path to see some exceptional natural places.
Apostle Islands (Souvenir Edition): From Land and Sea
Photographer Craig Blacklock piloted his kayak among the 22 Apostle Islands to capture photos of sea caves, lighthouses, isolated beaches, and natural features of the islands. Great book for planning an Apostle Islands excursion or camping trip.
Pictured Rocks (Souvenir Edition): From Land and Sea
Awesome photos of the amazing Pictured Rocks in Pictured Rocks National Lakeshore Park. It will encourage you to take a boat cruises among the Pictured Rocks or serve as terrific photo memories if you've already done the boat trip.



Mighty Fitz: The Story of the Edmund Fitzgerald
Many of know about the sinking of the Edmund Fitzgerald from the song by Gordon Lightfoot. But here is the fascinating real story of the storm and circumstances that led to the fate of the Fitz. Exciting drama mixed in with some education on an industry most of know little about.
Get the DVD -- Deep Sea Detectives: Death of The Edmund Fitzgerald
Lake Effect: A Deckhand's Journey on the Great Lakes Freighters
Average rating on Amazon is 5 stars. Described as a "deckhand's coming-of-age story of sailing the Great Lakes steamboats during the social and political turbulence of the early 1970s, . . . a vivid and memorable account, told in an entertaining narrative style, of life aboard the giant ore boats."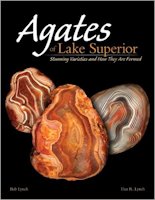 See our recommended guide books (with lots of great pictures and illustrations) on Agate Identification & Hunting, Rock & Mineral Identification, and Beach Rock Picking around Lake Superior.
SuperiorTrails.com - Reinhold Development - 2023
Privacy Policy