Swimming beach at Big Bay Park on Madeline Island
Wisconsin's Big Bay State Park on Madeline Island, the most southern island of the Apostle Islands, is a great weekend or week long retreat for families who love the outdoors but still want a few urban comforts.
It is located on a peninsula 7 miles from the village of La Pointe Wisconsin where there are restaurants, ice cream parlors, gift shops, golfing, and other entertainments. Close enough for convenience yet far enough to offer isolation from the hustle and bustle.
Most campers bring bicycles to ride around the park, tour the island itself, or run into La Pointe for its entertainment. The swimming beach on Big Bay faces east so the morning sun helps warm the waters early in the day but there was still some sun on the beach after 4 pm on the August day we visited the park. In addition to swimming and biking, other park entertainment includes hiking trails, canoeing or kayaking, rock climbing, beach combing, and fishing. There's also a large open field for games.
Recently the campground has added electricity to 15 sites so it is more RV friendly (however the dump station is not in the park but is available in the town of La Pointe). There are flush toilets and showers and canoe/kayak rentals available. Bike rentals are available in La Pointe.
Exploring Big Bay State Park

More adventureous swimmers find one of the many rock outcroppings around the point. On a warm summer day it is also a nice place to read a book or have a picnic catching the fresh breeze off the lake. > > >
< < < Here's another nice spot to relax and enjoy the view or the peaceful ambience of Lake Superior.
There is quite a bit of protected shoreline around the island for canoeing
or kayaking. > > >
< < < The park offers 9 miles of hiking trails, many with views of Lake Superior.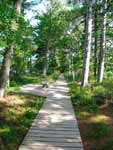 Included among the trails are this self-guided boardwalk nature trail along separating the barrier beach and Big Bay Lagoon. > > >