Wisconsin Scenic Travel Guide, Waterfalls, Campgrounds, Hiking, Lodging & Things to do
Discover Wisconsin's South Shore of Lake Superior

Fall Color at Potato River Falls
See Wisconsin Lake Superior Fall Color Drives
If you are heading east from Duluth, Mn on US 53, the first stop on the Wisconsin portion of the Lake Superior Circle Tour Route is just over the bridge in Superior, Wisconsin. Waterfall enthusiasts will want to take a short side trip south of Superior to visit Pattison State Park, a Wisconsin state campground with hiking trails and the state's highest water fall. (Click here for directory to more campgrounds) Returing to Superior and US 53 and heading east, you'll intersect with Wisconsin highway 13, the preferred scenic route to the Bayfield Peninsula where several quaint villages are located along this route: Port Wing, Herbster, and Cornucopia, WI.

Devil's Island Sea Caves
Video

Travel Map - Wisconsin South Shore
Click on the links in the above map for more info on interesting things to see and do along Wiscosnin's Lake Superior Shore

Best Bayfield and Wisconsin Lake Superior Campgrounds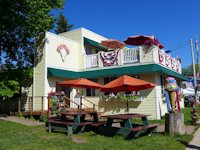 Shortly after "Cornie" there are two mainland visitor attractions of the Apostle Islands National Lakeshore: Meyers Beach, and Little Sand Bay. Eventually one reaches the Wisconsin crown jewel of the Lake Superior tour - the town of Bayfield with lots of things to see and do, and its sister village on nearby Madeline Island. We found the Apostle Island Cruise a worthwhile scenic attraction and an affordable way to see the islands.
Beyond Bayfield, Wisconsin the Lake Superior tour offers several interesting Wisconsin attractions to discover. Among them are: some great lakeside campgrounds in Washburn, the Northern Great Lakes Visitor Center in Ashland, and the Bad River Lodge and Casino at Odanah along US highway 2. Travelers willing to make a little side trip detour south can find some worthwhile waterfalls and hiking opportunities at Morgan Falls/St. Peter's Dome, Copper Falls State Park, and Potato Falls. In the fall this is an especially worthwhile detour for scenic fall color. Returning to US highway 2 heading towards Hurley, take Wisconsin Highway 122 for a scenic drive along the lakeshore and see the impressive Superior Falls at the Wisconsin-Upper Peninsula border - best viewed from the Michigan side.
Gas Saving Tips - Enjoy a unique vacation along the shores of Lake Superior for less money than you'd imagine
Camping on the Bayfield Peninsula
While camping at Washburn's Memorial Park, looking out our tent door over Chequamegon Bay, we caught a spectacular moonrise one night, followed by an equally impressive sunrise the next morning. > > >
More Info on Camping in Bayfield-Ashland Counties
Here's some more pages with camping, hiking, and things to do in the Chequemagon Bay, Apostle Islands, and the Bayfield Peninsula area:
> > Bayfield Wisconsin
> > Ashland Wisconsin
> > Apostle Islands National Park
> > Madeline Island, Apostle Islands

View of Madeline Island from Bayfield, Wisconsin.

Waterfalls, Scenic Hiking,
Camping at Copper Falls State Park
Lake Superior Wisconsin Camping, Campground & RV Links
More Lake Superior Sunsets
Along highway 13, near the western end of the Bayfield Peninsula, is Wisconsin's most northern town - Cornucopia, Wisconsin. It offers charming artisan shops, fish markets, charter fishing, beach walking and . . . beautiful sunsets > > >
A few more photos taken on the Cornie Beach
Bayfield Apple Festival - October
Some Wisconsin traveling and outdoors links:
Wisconsinmade.com - Wisconsin books, gifts and products
Wisconsin Online - An online guide to events, attractions, and recreation
CWD Watch - Articles on the Deer Hunting crisis in Southern Wisconsin
Advantage Rate Motel Hotel-Resort Lodging in Wisconsin Cities
SuperiorTrails.com - Reinhold Development - 2023