Fall Foliage Tours, Fall Peak Color Change Report, Scenic Color Drives Along Lake Superior Circle Route

View from Summit Peak, Porcupine Mountains
Porcupine Mountains Wilderness Park
SuperiorTrails.com - Reinhold Development - 2019
Privacy Policy


Lake Superior Camping
& Campground Directory
Camping along the Lake Superior Circle Drive.

Things to Do and See in Duluth, Minnesota

Outstanding Fall Color Porcupine Mountains Lake of the Clouds scenic overlook.

Fall Color & Waterfalls along Black River Harbor Scenic Parkway

Tahquamenon Falls State Park offers some of the best fall color in the eastern Upper Peninsula.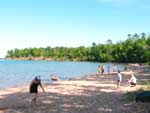 Enjoying the great swimming Beach Big Bay State Park on Madeline Island.

See the lighthouses on an Apostle Islands Cruise.

See our reviews on Best Hiking and Camping Guides around Lake Superior.