Washburn, WI
Washburn, Wisconsin's signature historic brownstone building
The Bayfield County seat, the city of Washburn is midway between Ashland, Wisconsin and Bayfield on Chequamegon Bay of Lake Superior. The town was founded in 1883 as a lake port for the Chicago, St. Paul, Minneapolis and Omaha Railroad. In 1896 it became the seat of government for Bayfield County.
In addition to being the county seat and a Lake Superior port city, its growth was fueled by its mature forests and abundant sandstone, called brownstone, used in numerous buildings including some prominent architecture in Minneapolis and Chicago. Several historic brownstone buildings remain in the city, including the 1890s Washburn Cultural Center shown above.
The town offers antique and artisan shops, and decent shopping for groceries, hardware, gas, and amenities one would expect of the county seat. Perhaps its major tourist attraction are a pair of lakeside parks and campgrounds on either end of town: Memorial Park and Thompson's West End Park. The two parks are joined by a scenic lakeside hiking trail. We have camped at each park and like them both; each has its strengths.

Great Lake Superior Sunrises

Early in the morning the sun rises over Chequamegon Bay as seen from Washburn's Memorial Park campground. > > >
A number of Lake Superior sunrises pictured in these pages were taken in Washburn.

< < < Another Chequamegon Bay sunrise.
And here is a Lake Superior moonrise as seen from Memorial Park. > > >
Downtown Washburn

The bookstore and coffee shop is a favorite stop. It is located in one of Washburn's historic brownstone buildings. > > >

< < < Another Brownstone is the canvas for a mural.

One of the newest buildings in Washburn is the Stage North Theatre. Stage North is a performing arts center featuring a wide variety of theatrical, musical, and film performances. > > >

< < < The Stage Door Bar is open 7 days a week and features wireless Internet access and a spacious terrace overlooking Lake Superior's Chequamegon Bay.

In 2019, Stage North is hosting productions by the Groundlings Community Theater who will present "The Best/Worst Christmas Pageant Ever" from November 30 to December 9th.
Washburn's Campgrounds

The pavilion and park located at the Memorial Park campground. > > >

< < < Towering pines shade most of Memorial Park's campsites.


The West End campground is more open and has more space for larger RVs. It also has a boat launch, fishing pier, and a more extensive playground than Memorial Park. > > >

< < < A nice peaceful evening looking out at Chequamegon Bay at the West End park. The boat dock and playground are located far enough from the campsites to insulate from any noise or activity.


See information about Washburn and other Bayfield Campgrounds here.
See more Washburn things to see and do here.
Some Washburn Area Links
Some Popular Bayfield Visitor Attractions
Bayfield & Ashland Fall Color Scenic Drives
SuperiorTrails.com - Reinhold Development - 2023
---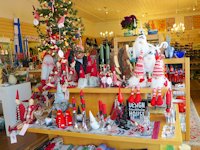 Bayfield Holiday Events & Activities

Duluth Holiday Events and Fun.

Winter - Michigan UP
Winter - Wisconsin Winter - Minnesota
Winter - Sault Ste Marie.
---
---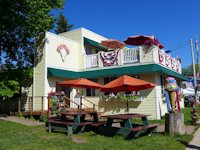 See our guide to interesting and fun things to see and do on Madeline Island.

See photos from our recent Apostle Islands
Sea Caves cruise.



Apostle Islands Sea Caves Hiking Trail is about a 3.5 mile round trip from Meyers Beach to the Bayfield Sea Caves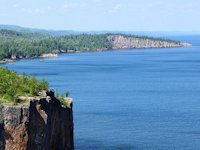 Lake Superior Travel Directories
Minnesota Travel
Wisconsin Travel
Upper Peninsula
Ontario Travel

---
Lake Superior Dragon Boat Festival is one of the top midwest dragonboat race and festivals.

Bayfield is the gateway to the Apostle Islands and Madeline Island.

Fun things to see and do including great Burger & Pizza Bars in Superior Wisconsin

Orchard Touring
Take a scenic drive of
farms and orchards in the Bayfield area.

Hotel, Motel Lodging
Ashland, Superior, Ironwood, Wisconsin South Shore