Bayfield, Wisconsin Travel
Things to see and do

Bayfield Wisconsin Harbor View
Gateway to Madeline Island and the Apostle Islands, Bayfield, WI is the crown jewel of the Bayfield Peninsula. An active arts and crafts community, shopping, orchards, dining, sea kayaking, sailing, camping, fishing, and island cruises are among the attractions that make Bayfield a popular touring stop.

Wisconsin
Lake Superior Ice Caves

Apostle Islands Sled Dog Race
An entertaining family
winter event, Feb 1 - 2
While there are interesting things to see and do at most times in Bayfield, we most enjoy the festive atmosphere of the annual fall Apple Festival - which draws up to 60,000 people during the 3 day weekend! See our Bayfield Events Calendar (below) for more ideas on things to do and see in Bayfield.
During the winter and holiday season there are several Christmas and Holiday activities going on commencing with the holiday tree lighting ceremony on the day after Thanksgiving. The Rittenhouse Inn has a nice Thanksgiving dining and lodging package that we will catch this year. When winter arrives, there is cross-country skiing and downhill skiing at Mt. Ashwabay, the big Sled Dog race, the fantastic Bayfield Ice Caves and winter carnivals in Bayfield and Mount Ashwabay.
Three days of fun, food, and entertainment at one of Wisconsin's most favorite and oldest fall festivals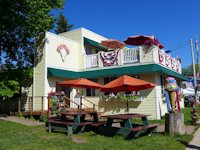 Visiting historic Madeline Island & Apostle Islands National Park
---
---
Bayfield WI Spring, Summer, Fall Events

Due to covid uncertainty, some dates for 2021 annual events won't be posted until June.

Bayfield Area Travel Directory


(pages in SuperiorTrails.com)

Bayfield, Wi home page
Bayfield Visitor Attractions/Links
More Bayfield Pictures
Bayfield in Bloom
Bayfield Apple Festival
50th Apple Festival
Bayfield Orchards
Bayfield Ice Caves
Bayfield Thanksgiving
Bayfield Holiday Shop Hop
Bayfield Sled Dog Race
Big Bay State Park
Big Top Chautauqua
Ojibwe Big Top Fish Boil
The Iron Bridge
Hiking & Nature Trail
Campgrounds Bayfield Wi
Mount Ashwabay
Ashland Wisconsin
Ashland on July 4th
Ashland Mural Walk
Apostle Islands
Apostle Islands Cruise
Apostle Islands Links
Apostle Islands Sled Dog Race
Meyers Beach Sea Cave Hiking Trail
Bayfield Sea Caves Boat Tour
Meyers Beach - Sea Caves
Madeline Island
Madeline Island Historical Museum
Madeline Island Ice Road
Cornucopia Wisconsin
Copper Falls State Park
Ashland-Bayfield Scenic Color Tour
Washburn, Wi

Apostle Highlands Golf Course

Food, fun, camping, hiking, biking, on historic Madeline Island

---
Bayfield residents have done a fine job preserving the historic character of the town. A number are listed on the National Register of historic sites.

Among the historic structures is this 1912 Iron Bridge constructed by Wausau Iron Works. Underneath the Iron Bridge, there's also a neat little wooded hiking trail running up the ravine. It is so secluded it is hard to grasp you are only minutes from "downtown" Bayfield.
Downtown is packed full of interesting boutiques, funky restaurants & bars, outdoor recreation shops, art galleries & artisan shops, etc.
Popular Bayfield Events & Visitor Attractions.
Campground Listings - Bayfield Area.
Bayfield Apple Festival.
Bayfield Pictures & Scenes.
Bayfield & Ashland Fall Color Scenic Drives.

The Bayfield Chamber & Visitors Bureau office is conveniently located downtown on Manypenny Avenue. They are the prime sponsor of AppleFest and are an essential stop for the Bayfield visitor to get useful advice, maps, brochures, and information on enjoying the Bayfield area.
See Bayfield Winter Events Here
Also see ScenicPathways.com - keyword search Bayfield for recent updates on interesting things to see and do in the Bayfield area.

SuperiorTrails.com - Reinhold Development - 2021