Bayfield, Wisconsin Travel
Things to see and do

Bayfield Wisconsin Harbor View
Gateway to Madeline Island and the Apostle Islands, Bayfield, WI is the crown jewel of the Bayfield Peninsula. An active arts and crafts community, shopping, orchards, dining, sea kayaking, sailing, camping, fishing, and island cruises are among the attractions that make Bayfield a popular touring stop.

Fall view from Hauser Orchard Hayloft
See our fall Orchard View Tour

Bayfield Apple Festival
First Weekend in October

---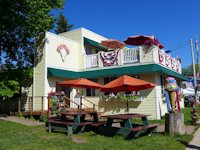 Visiting historic Madeline Island & Apostle Islands 2 National Park
Bayfield's summer season begins with the annual Bayfield in Bloom festival, which is kicked off by Wisconsin Public Radio's "Garden Talk" with Larry Meiller broadcast from the Bayfield Lakeside Pavilion.
While there are interesting things to see and do at most times in Bayfield, we most enjoy the festive atmosphere of the annual fall Apple Festival - which draws up to 60,000 people during the 3 day weekend! See our Bayfield Events Calendar (below) for more ideas on things to do and see in Bayfield.
During the winter and holiday season there are several Christmas and Holiday activities going on commencing with the holiday tree lighting ceremony on the day after Thanksgiving. The Rittenhouse Inn has a nice Thanksgiving dining and lodging package that we will catch this year. When winter arrives, there is cross-country skiing and downhill skiing at Mt. Ashwabay, the big Sled Dog race, the fantastic Bayfield Ice Caves and winter carnivals in Bayfield and Mount Ashwabay.
Bayfield residents have done a fine job preserving the historic character of the town. A number are listed on the National Register of historic sites.
Among the historic structures is this 1912 Iron Bridge constructed by Wausau Iron Works. Underneath the Iron Bridge, there's also a neat little wooded hiking trail running up the ravine. It is so secluded it is hard to grasp you are only minutes from "downtown" Bayfield.

---
Bayfield WI Spring, Summer, Fall Events
Bayfield In Bloom Garden Festival
June 2 - 11, 2023
Annual Garden Tour - June 10, 2023

Chequamegon Bay Birding & Nature Festival - May
Big Top Chautauqua's Tent Show

2022 First Night - June 18th
Big Top Concerts - June - Sept.

Bayfield Summer Concerts
Thursday evenings, July & Aug
Concerts by the Lake
Tuesday evenings, June - Aug

Bayfield Festival of Arts
September 10 - 11, 2022
Bayfield County Fair August 11 - 14, 2022
Apostle Islands Lighthouse Celebration
September

Bayfield Apple Festival
October 6 - 8, 2023

Fall Festival & Orchard Tours
Sept 1st through October 16th
Madeline Island Fall Festival
October
More Events & Ideas for Things to See & Do in Bayfield
Bayfield Chamber Events Calendar
See Bayfield Attractions & Events for latest schedule.
---
Downtown is packed full of interesting boutiques, funky restaurants & bars, outdoor recreation shops, art galleries & artisan shops, etc.
Popular Bayfield Events & Visitor Attractions.
Campground Listings - Bayfield Area.
Bayfield Apple Festival.
Bayfield Pictures & Scenes.
Bayfield & Ashland Fall Color Scenic Drives.

The Bayfield Chamber & Visitors Bureau office is conveniently located downtown on Manypenny Avenue. They are the prime sponsor of AppleFest and are an essential stop for the Bayfield visitor to get useful advice, maps, brochures, and information on enjoying the Bayfield area.
See Bayfield Winter Events Here
Also see ScenicPathways.com - keyword search Bayfield for recent updates on interesting things to see and do in the Bayfield area.

SuperiorTrails.com - Reinhold Development - 2023