Lake Superior Agate and Rock Hunting Beaches
Wisconsin & Western Upper Peninsula

Beach at Black River Harbor after a storm
Best Lake Superior Rock Picking & Agate Beaches - Wisconsin South Shore and Western Upper Peninsula
Guides to
Lake Superior Agate Beaches
- North Shore Agate Beaches
- Wisconsin & Western UP Beaches (here)
- Keweenaw UP Agate Beaches
- Eastern UP Agate Beaches
SuperiorTrails Agate Hunting & Rock Picking Directory (Pictures and Guides to Identifying Lake Superior Beach Rocks, Minerals, and Agates)
The picture at the top of this page gives you an idea of the power of Lake Superior. These logs and debris weren't there when we walked the beach in mid-July but by mid-September here they were. Along with the logs, you can expect a fresh batch of rocks also came ashore.
Most of the beaches in the Wisconsin part of Lake Superior are sandy with not many rocks or the variety of rocks you find along the Minnesota North Shore or in the UP. Additionally park policy against removing rocks eliminates all of the Apostle Islands National Park lands from consideration. And finally there are some large stretches of shoreline along the Wisconsin south shore that aren't accessible to the public.
Highway 13 Wayside Beach
There is a small roadside pull-over/rest stop located 6 miles west of Port Wing, Wisconsin on Highway 13. The beach is a short walk down the hill. We've only briefly "picked" this beach two times while stopping here for a lunch break and not found any agates. However I like the look of the beach and its rock population so I think it has possibilities.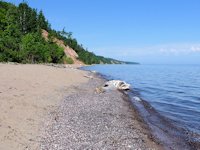 Saxon Harbor, Saxon Wisconsin
The turn-off onto Highway 122 is 12 miles west of Ironwood, Michigan. There is a county park sign at the turn-off. This beach was recommended to me by an avid rock hound and agate collector. I need to spend more time on it . . . and get some pictures! One reason we too often bypass this beach is Little Girl's Point (a premier rock hound beach) is only 7 miles east of here. But as it is the "road less traveled" the Saxon Harbor Beach is worth a good look.
Little Girls Point, Ironwood, Michigan
If you are coming from the west turn at the same corner with Highway 122 as to the Saxon Harbor beach only continue 7 miles past Saxon Harbor going east. From Ironwood, MI it is 17 miles north on Michigan Highway 505. Little Girls Point might have more collectable tons of rocks than any other Lake Superior beach!
Black River Harbor Beach
Follow Highway 505 from Ironwood going north, but turn right at Airport Road to intersect with Highway 513 (Black River Scenic Byway) and turn right til you get to the harbor parkway. It is about a half-mile walk to the beach. We've had good success on this beach and it is the site of my first agate find! See our recent article on finding beach rocks and agates at Black River Harbor.


Presque Isle River Beach
There is a smaller beach area accessible from the campground by a set of stairs. The other area is at the tip of the island at the mouth of the river. Would rate this as only a middling agate beach, but the Presque Isle River waterfalls and river views are quite scenic so it makes the trip to the area worthwhile. And as a bonus you might score an agate or a collectable rock. This is part of Porcupine Mountains State Park so you'll need a vehicle sticker.

Books on Lake Superior Agate Hunting & Rock Picking


Lake Superior Rocks & Minerals: A Field Guide to the Lake Superior Area

Recommended by a SuperiorTrails friend & rock hound, this new guide has actual photographs of various rocks and minerals found on Lake Superior beaches. Co-author Bob Lynch is owner of Agate City Rocks and Gifts in Two Harbors Minnesota

Karen Brzys. Director, Gitchee Gumee Agate & History Museum, has created this comprehensive tutorial to finding agates. Includes over 750 photographs and diagrams.

Lake Superior Rocks & Minerals Field Guide


This new edition by Dan and Bob Lynch will help you identify up to 75 rocks and minerals you might find washed up on Lake Superior beaches. Has full color photographs to aid in identification.



Lake Superior Rock Picker's Guide

Here is another book recommended by a Superior Trails reader and rock hound who was able to identify over 50 rocks found on the beach using this guide by Kevin Gauthier and Bruce Mueller. Also included are tips for polishing the stones and rock. Kevin and Bruce also publish a similar guide for Lake Michigan rocks.

Agate Hunting Made Easy: How to Really Find Lake Superior Agates

My wife Jo found this agate hunters book while traveling in the UP and thought it would help her find her first Lake Superior Agate. It is full of tips for agate hunting (and rock picking) and has some very good color photographs of a number of agate variations as well as photos of the other kinds of rocks you'll find on Lake Superior beaches.

Rock Pickers Guide to
Lake Superior's North Shore

Sparky's guide covers what north shore beaches to comb, a bit of history on the formation of the various rocks found on beaches, and helpful information and pictures on identifying beach rocks and minerals.



See more recommendations on guides and books on Lake Superior Rocks, Minerals & Agates

Lake Superior Agate Links
Minnesota's State Gem: The Lake Superior Agate
Rock Identification Key - By Don Peck on Rockhounds.com
Gitche Gumee Agate Museum

See more on the Museum and Rock Picking/Agate Hunting on Grand Marais, Michigan beaches.

The 2021 13th Annual Rock On Agate Festival will be held held in Sept 11 & 12 at the Community Center in Grand Marais, Michigan.
What last year's agate festival was like:
Pictures & Story from the
2014 Rock On Agate Festival.

Continuing your Travel & Trekking

Around Lake Superior
Superior Trails Lake Superior Circle Tour
SuperiorTrails.com - Reinhold Development - 2023
Privacy Policy