Shovel Point & Palisades Head - Tettegouche State Park - Lake Superior Circle Tour

Shovel Point on Lake Superior at Tettegouche State Park
Tettegouche State Park is a must-see stop along the Minnesota North Shore leg of the Lake Superior Circle Tour. There's a newly remodeled and expanded Visitor Center and a nice lakeshore and river's edge hiking trail with several scenic views of the lake, including the one at the top of this page. If you got a little more time and especially if it is a nice clear day, you'll also want to drive to the top of the Palisades Head Scenic Overlook for its expansive view of the lake, including a more distant view of Shovel Point.
If you like to hike to waterfalls, the park's High Falls can be reached from the Superior Hiking Trail trailhead on Hwy 1 about a .8 mile north of the intersection with Hwy 61.
~~~"Click" on smaller images for a larger picture~~~
Hiking to Shovel Point & Shovel Point Scenic Views
Jo and I hiked the lakefront trail from the river mouth to the top of Shovel Point. See google earth aerial view.
The ascent is being made easier with the construction of a series of well designed steps navigating the steeper portions of the trail.
Part way up to the top we found this overlook with a great view of the sea caves near the mouth of the Baptism River. Palisades Head is in the background.
An outstanding view from the top of Shovel Point. Worth the hike for sure. If you have kids with you keep an eye on them as there are no guard rails to obstruct the view . . . nor protect the unwary.
Palisades Head Scenic Overlook
Looking North from the Palisades Scenic Overlook
The drive up to the top of Palisades Head is steep but at the top plenty of parking to catch a great view of the lake and surrounding shoreline.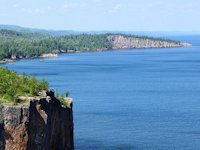 Here's a zoom view of Shovel Point from Palisades Head.
Both Palisades Head and Shovel Point (click here for map) are in Tettegouche State Park, northeast of Silver Bay, Minnesota.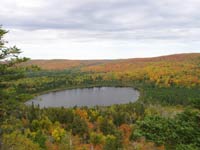 Fall Color from the hiking trail around the peak of Oberg Mountain, one of several mountain peak trails that offer scenic fall color vistas along the Minnesota North Shore.
SuperiorTrails.com - Reinhold Development - 2023