Saxon Harbor Beach & Campground

The Saxon Harbor Recreation Area, September 2020
The New Saxon Harbor Campground is now open
The New Saxon Harbor Campground is a significant improvement on the old campground which, along with a good portion of the Marina, was destroyed in the July 12 - 13, 2016 storm and tornado that hit Northwest Wisconsin & Western Upper Peninsula along Lake Superior from Ashland, Wisconsin to Wakefield, Michigan.
Re-building the harbor's beaches, marina, and campground have been going on for several years. By September of 2020 most all the repairs have been completed and the "new" campground is now open for business. (see details further down the page)

2016 Storm Damage - Saxon Harbor
Iron County Sheriff Dept Photo
When we visited in late June 2020, the finishing touches were being made on the new campground.
(Click on smaller images for larger view)

The view of the harbor and lake front from the
lower unit of the new campground
But when we returned in September, most of the work was completed and the campground was open with a few rigs there.
There's a playground area in front of the office. I think there may be small camp store in the office as well. The park picnic areas have been re-worked with benches, tables, and a gazebo in one of the picnic areas.
Agate Hunting & Rock Picking
The re-work also gave access to a rock picking beach east of the harbor entrance that has some potential for finding agates. There's another rock picking beach west of the main picnic area.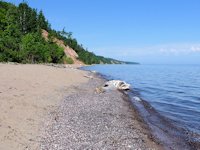 ---
SuperiorTrails.com - Reinhold Development - 2023