| | |
| --- | --- |
| | |
| | | | |
| --- | --- | --- | --- |
| | | | |
Other things to see and do in Washburn, WI
The Washburn, Wisconsin lakefront near Memorial Park
Other attractions in Washburn that we enjoy include the lakeshore walking trail that runs between Washburn's two lakeside parks, getting breakfast at or a cup of coffee at Cafe' Coco and North Coast Coffee, going to the Washburn Ranger station for information on recreation in the Chequamegon National Forest, hiking and picnicking at Long Lake Park, and visiting the woodcarver village south of town.
Washburn is also centrally located between numerous attractions in nearby Bayfield and Ashland like the Great Lakes Visitor Center, Ashland's Mural Walk, Big Top Chautauqua, Apostle Islands, Madeline Island, some great golf courses, to name just a few.
In the fall color season a nice circle drive is taking County C north past Mount Valhalla to the seaside village of Cornucopia. Then go east on Highway 13 to the Apostle Island Park at Little Sand Bay (via Cty K), then south to Bayfield and its Orchards and then returning to Washburn. For more info see our fall color tour map here.
Lakeshore Parkway and Walking Trail

The lakeshore walking trail begins at Thompson's West End Park and runs along the lakeshore for 1.3 miles to the Washburn Marina. For part of its length it is wheelchair accessible. > > >

Wildflowers along the trail. The Stage North Theatre (seen in the background) has a nice view of the trail and lakeshore from its front deck.

There's a nice secluded sand beach along the trail for swimming, sun bathing, and picnics. There's also a car park nearby with a spur trail to the beach. > > >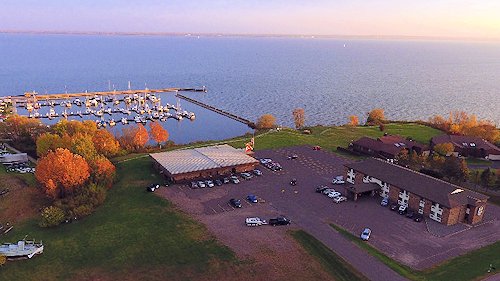 Lakeshore trail running by the Marina and Washburn Inn
The lakeshore trail is quite convenient for visitors and guests of The Washburn Inn and the Harbor View Event Center.

About a mile or two south of Washburn on Hwy 13 is a collection of buildings, a gift shop, and various works-in-progress of wood carvings. Seems like every time we go by this place, we're on some sort of schedule to be somewhere else. Finally in August of 2009, we made time to stop and see what is going on. > > >
< < < A family of bears amid a few other creatures. Bears are here and there and everywhere.


Whimsical characters abound. At the base of this totem
is a turtle, then a bear, a fox, a moose, and an owl.

Once you get close to the action you realize there is an extensive village of shops and buildings away from the road with wood works everywhere - some finished and many in various stages of completion. > > >
< < <
As we wander deeper into the village, we encounter surprises everywhere. Signs welcome you to a peaceful little garden and grape arbor where you can relax on a bench or chair - as long as this mean looking Muskie doesn't bother you!

One of several open air workshops in the village. At one time as many as 14 artisans maintained their summer workshops here. > > >

< < < We finally meet the creator of this wooden fantasy land - Bill Vienneaux, Master Woodcarver. An affable character, part artist and part salesman, Bill happily spent time telling us about the history of his village and his philosophy of life and work. He's as rich as he wants to be and is doing what he loves. His "works" are reasonably priced as Bill realizes he can't really price them according to how many hours he puts in but at what people are willing to pay. And besides he has to sell stuff to free up room for more of his creations!

I almost escaped without taking out my wallet, but on the way out Jo made me find room in our RV for two of these garden mushrooms (at $15 a piece). > > >

Stop in and see Bill. You'll certainly be entertained and you might even find a unique wood carving for yourself or as a gift.

Bill can be reached online at the_sawdust_factory@yahoo.com
If you are traveling in the Upper Peninsula, another fun stop with unique art is the Da Yoopers Tourist Trap. Unlike Bill's Museum, you can't buy the "art" but certainly can enjoy it.
See more information about Washburn here
Some Washburn Area Links
Some Popular Bayfield Visitor Attractions
Bayfield & Ashland Fall Color Scenic Drives
SuperiorTrails.com - Reinhold Development - 2023
---

Bayfield Apple Festival
Oct 6 - 8

---
Best Ashland & Bayfield Wisconsin Area Campgrounds


Lake Superior Camping
& Campground Directory
Best Camping along Lake Superior.

---
---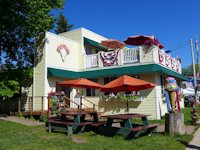 See our guide to interesting and fun things to see and do on Madeline Island.

See photos from our recent Apostle Islands
Sea Caves cruise.



Apostle Islands Sea Caves Hiking Trail is about a 3.5 mile round trip from Meyers Beach to the Bayfield Sea Caves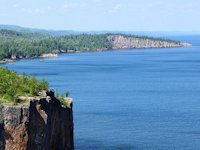 Lake Superior Travel Directories
Minnesota Travel
Wisconsin Travel
Upper Peninsula
Ontario Travel

---

Bayfield is the gateway to the Apostle Islands and Madeline Island.

Fun things to see and do including great Burger & Pizza Bars in Superior Wisconsin

Orchard Touring
Take a scenic drive of
farms and orchards in the Bayfield area.

Hotel, Motel Lodging
Ashland, Superior, Ironwood, Wisconsin South Shore