Pictures of Lake Superior Agates
Minnesota Moose Lake State Park
Geology Interpretative Center

Lake Superior Agate from the collection of the Minnesota Geological Interpretive Center
See Links to more Agate & Beach Rock Pages at the bottom of this page.
Also Books we recommend for Agate Hunting and Beach Rock Collecting.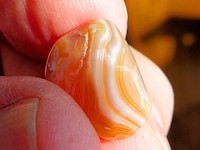 Rock hunters and agate collectors traveling around Lake Superior should consider taking a slight side trip (on Interstate 35) about 36 miles south of Duluth, Mn to see the very impressive Lake Superior Agate collection and rock displays at the interpretive center located with the Moose Lake Park Visitor Center. If you have a annual state park pass or a pass for the day from visiting another Minnesota state park, admission to the Geological Center is free; otherwise there is a modest admission charge (in my opinion worth the fee if you are interested in agates).
Agate & Geological Center

< < < The entrance to the Geological Center & Visitor Center. Inside, in addition to the agate and geological display, is a nature store/bookstore and the usual state park visitor center facilities.
There are hundreds of agates, gemstones, and rocks on display plus interesting exhibits on the geological history of the region. > > >

< < < The agate collectors "Wall of Fame" shows some amateur collectors and their finds. Although we enjoy combing Lake Superior beaches in hopes of finding an agate, many collectors find scrounging around old (or new) rock quarries more productive. In -innesota, the geological formations that contain Lake Superior agates stretch far from the current shoreline of Big Gitche Gumee.

There is a nice general exhibit of -innesota and Lake Superior rock types as well as information of their origins. Here's a close-up of Gabbro, an igneous rock similar to Granite. > > >

< < < Here's an even better close-up view of that same rock for Rock Hounds who have had trouble distinguishing it from Granite. The large black crystals of biotite are more predominant in Gabbro than they usually are in Granite. The white and white-grey translucent crystals are plagioclase. The clear and more transparent crystals are quartz.
Granite, while also containing some of the same crystals as Gabbro, is generally lighter in overall color and more likely to contain shades of different colors - pinks, reds, yellows.
Pictures of Lake Superior Agates
Here's a pretty ugly rock that has been cut open to reveal it is an agate on the inside!
Here's another agate with a "pretty face" and a "plain face."
The pit marked, and generally unattractive, husk of a Lake Superior beach agate often disguises what may be on the other side or the inside. The husk is usually rougher, with pit mark impressions, than its neighbors.
Several of the Agate Hunting Books we recommend (see bottom of the page) have numerous pictures of agates in the rough . . . which rock pickers and agate hunters need to learn because the polished ones we often see in shops and pictures don't often occur in nature looking like that.



< < < Here's an eyeball agate, a rare and beautiful find. This specimen has been polished to better show its beauty. (the white specs are reflections from the glass of the display case).
Here's a picture of another beautiful, polished agate specimen > > >
My first Lake Superior Agate
Go Here to see my Agate. It is part way down the page near the bottom of the page. Also check out some very nice agate images of Lake Superior Agate specimens found by Jeff King.
Agate Cousins. On this page you can see some pictures of Agate Wanna-Bee's - which are distinctive beach stones that can be confused with or misidentified as agates.
Rock Hounds Links: More Agate and Beach Rock Pages
Identifying Beach Rocks & Rock Picking around Lake Superior
Pictures of Beach Rocks & Minerals found around Lake Superior
Identifying Agates from Agate-Wanna Bees
Rock Tumbling Lake Superior Rocks, Agates & Gemstones
Lake Superior Agates from the -innesota Agate Museum (you are here)
Lake Superior Agate Festival
Best Rock Picking and Agate Hunting Beaches around Lake Superior

The 2017 10th Annual Rock On Agate Festival will be held held Sept 9 & 10th at Muskallonge Lake State Park.
What goes on at the agate festival? See our:
Pictures & Story from the
2014 Rock On Agate Festival.
Books on Lake Superior Agate Hunting & Rock Picking

Lake Superior Rocks & Minerals: A Field Guide to the Lake Superior Area

Recommended by a SuperiorTrails friend & rock hound, this new guide has actual photographs of various rocks and minerals found on Lake Superior beaches. Coauthor Bob Lynch is owner of Agate City Rocks and Gifts in Two Harbors -innesota

Karen Brzys. Director, Gitchee Gumee Agate & History Museum, has created this comprehensive tutorial to finding agates. Includes over 750 photographs and diagrams.

Lake Superior Rocks & Minerals Field Guide


This new edition by Dan and Bob Lynch will help you identify up to 75 rocks and minerals you might find washed up on Lake Superior beaches. Has full color photographs to aid in identification.



Lake Superior Rock Picker's Guide

Here is another book recommended by a Superior Trails reader and rock hound who was able to identify over 50 rocks found on the beach using this guide by Kevin Gauthier and Bruce Mueller. Also included are tips for polishing the stones and rock. Kevin and Bruce also publish a similar guide for Lake Michigan rocks.

Agate Hunting Made Easy: How to Really Find Lake Superior Agates

My wife Jo found this agate hunters book while traveling in the UP and thought it would help her find her first Lake Superior Agate. It is full of tips for agate hunting (and rock picking) and has some very good color photographs of a number of agate variations as well as photos of the other kinds of rocks you'll find on Lake Superior beaches.

Rock Pickers Guide to
Lake Superior's North Shore

Sparky's guide covers what north shore beaches to comb, a bit of history on the formation of the various rocks found on beaches, and helpful information and pictures on identifying beach rocks and minerals.



See more recommendations on guides and books on Lake Superior Rocks, Minerals & Agates

Continuing your Travel & Trekking

Around Lake Superior
Superior Trails Lake Superior Circle Tour
SuperiorTrails.com - Reinhold Development - 2023
Privacy Policy